A controlled access laboratory for post launch calibration, characterization, and diagnostics of the Cassini Plasma Spectrometer (CAPS) and the Cassini Ion & Neutral Mass Spectrometer (INMS).
Cassini Plasma Spectrometer (CAPS) Chamber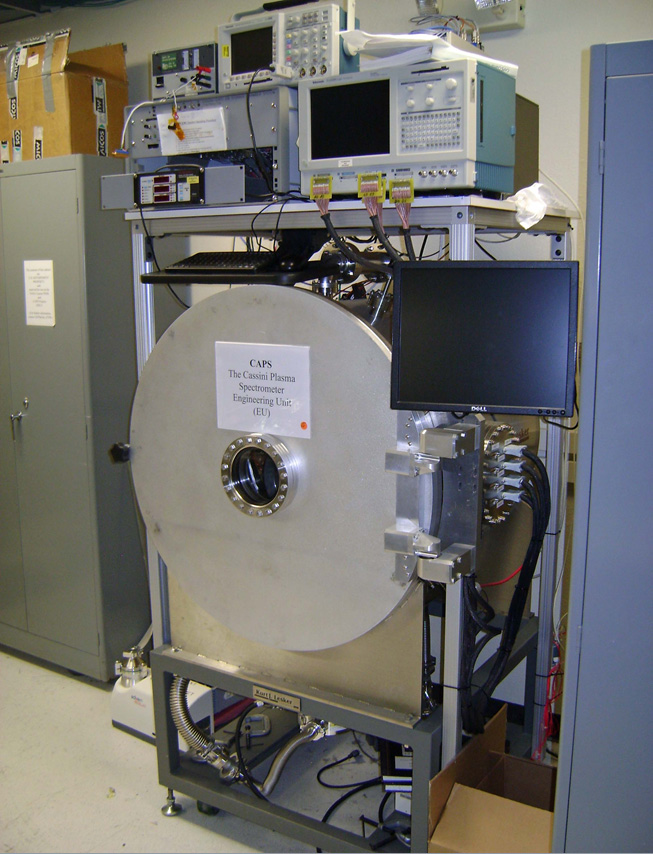 CAPS Chamber Features:
Chamber door opens greater than 90 degrees.
Interior tray drawer permits supported extraction of CAPS instrument & insertion of instruments up to approximately 16" x 16" x 16" cube
Up to three lab benches available for conversion to ESD operations if necessary.
Main chamber dimensions: 24" diameter x 24" deep cylinder
System pumping: 450l/s Seiko Seiki magnetically-levitated turbomolecular pump backed by an scroll pump (no oil containing pumps used in the lab)
Additional bottom flange port for second turbopump or cryopump
8" CF viewport
10" CF multi-pin instrument electrical feedthrough flange
Numerous available flanges at an assortment of chamber positions for electrical or vacuum feedthroughs
High purity nitrogen available for instrument purging
Chamber vented with high purity nitrogen
Chamber pressure, temperature, and CAPS instrument conditions monitored remotely
Routine base pressures of 1 x 10-7 Torr
Reaches high vacuum (turbo starts) in 10 minutes
No thermal control
No TQCM, No RGA
INMS Chamber Features:
16" x 16" stainless steel cylindrical chamber
Three (3) 8" CF ports, two (2) 10" CF port, one (1) 13.25" CF port, and ten (14) 2.75" CF ports
Axis of target flange (13.25" CF), all three (3) 8" CF flanges and two (2) 2.75" CF flanges occupy same horizontal plane
Axis of target flange (13.25" CF), two (2) 10" CF flanges and one (1) 8" CF flanges occupy same vertical plane
All metal sealed flanges and fittings
Ceramic insulators and isolation
NO ELASTOMERS
Nominal base vacuum level 3 x 10-10 Torr after 200C bakeout
INMS instrument bakeable to 250C
Chamber bakeable to 400C, but limited to program, mission, science instrument, ion gun and turbopump temperature considerations
Cassini Ion & Neutral Mass Spectrometer Calibration Chamber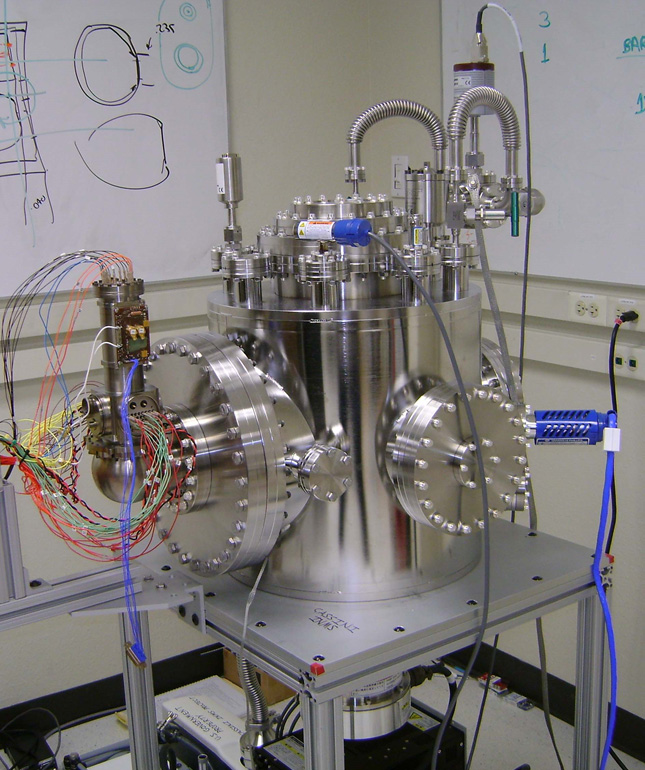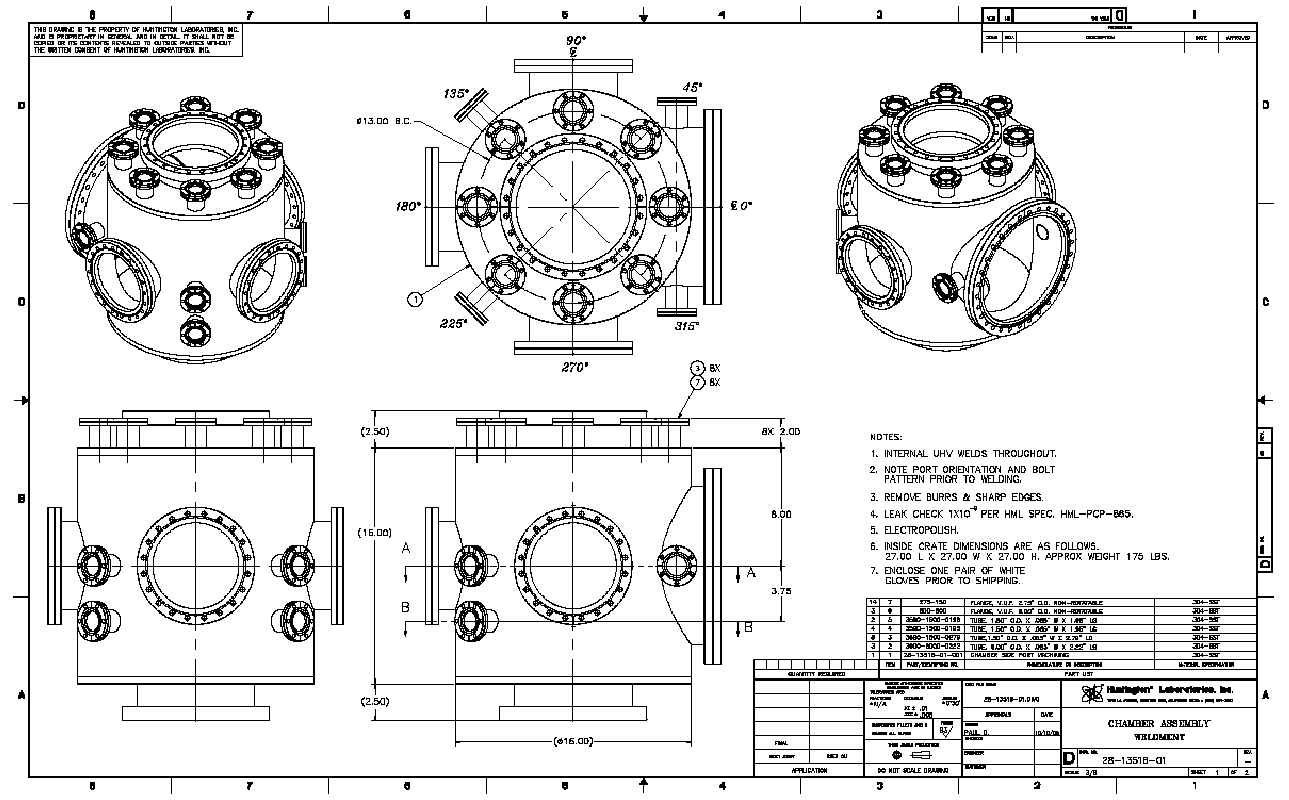 INMS Chamber Features (cont):
INMS gimbal motion control (+/- 10 degrees in any plane)
Scriptable movement, ion gun and instrument control
Instruments or detectors up to 13.25" CF size
Automated chamber parameter control, monitoring and recording
Hardware and software overpressure failsafe protection mechanisms for system and mission critical flight hardware
PC-controlled HV power supplies for up to 30 ion lens elements
Four (4) automated filament emission regulator power supplies for operating up to four (4) ionization sources
Flight-qualified RF power supply for quadrupole rod operation
Two (2) Granville-Phillips Stabil-Ion® gauges for pressure measurement and vacuum interlock operation from 1×10-4 to 1×10-10 Torr range
MKS spinning rotor gauge transfer standard for precise NIST-traceable pressure measurements from 1×10-2 to 1×10-7 Torr operation
Two (2) Granville-Phillips Convectron® gauge for turbopump foreline monitoring and main chamber during venting and initial evacuation
Pfeiffer PrismaPlus quadrupole mass spectrometer (QMS) residual gas analyzer (RGS)
No TQCM
No clean room or tent
< 1 hour to reach 1×10-6 Torr, 3×10-10 Torr typical after bakeout
Ion Source
Nominally supplies 5 ion species H+, Ar+, Ne+, He+, N+ and ion species relevant to Cassini mission, but other species possible
Ion energies from 1 keV down to < 10 eV
MCP imaging detection system
Faraday cup detection and beam monitoring system
Ion optics for beam spreading at target
Internal ion apertures for beam diagnostics and focusing
SwRI-developed custom ion source
Drift tubes for conducting ions to target at low eV
Ion source-to-target distance: ~30"
Cassin INMS Calibration System Ion Gun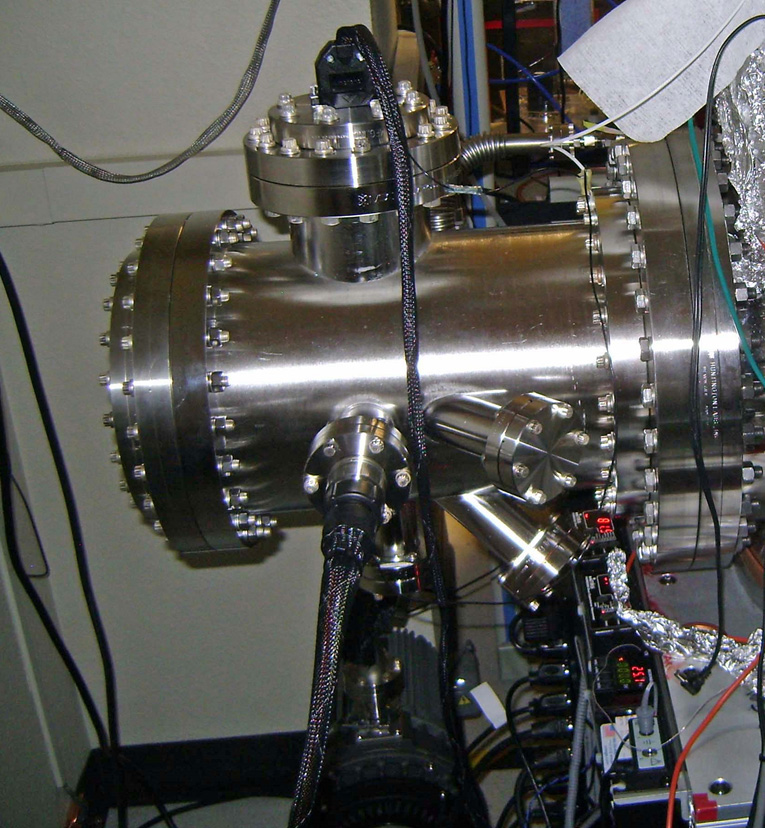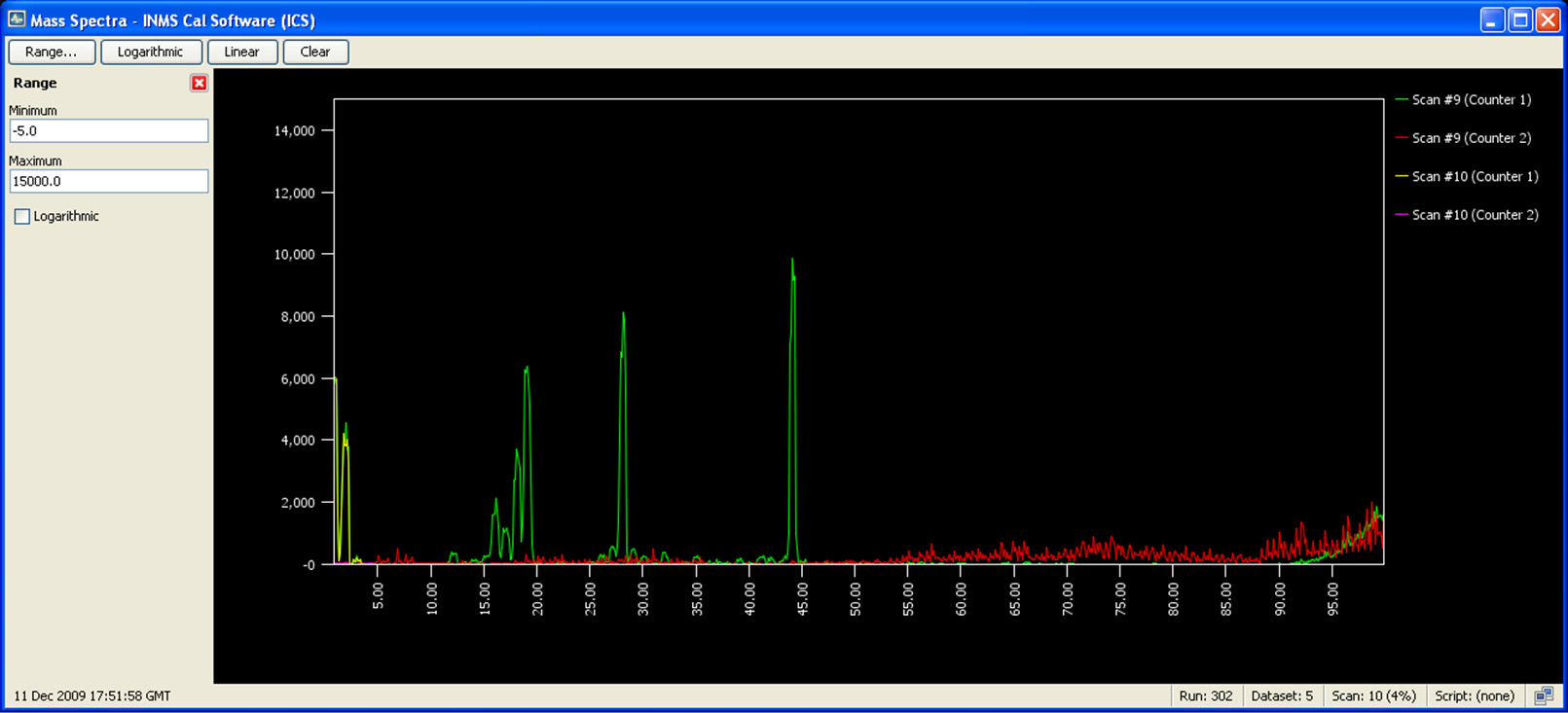 Graphical User Interface (GUI) for ion gun operation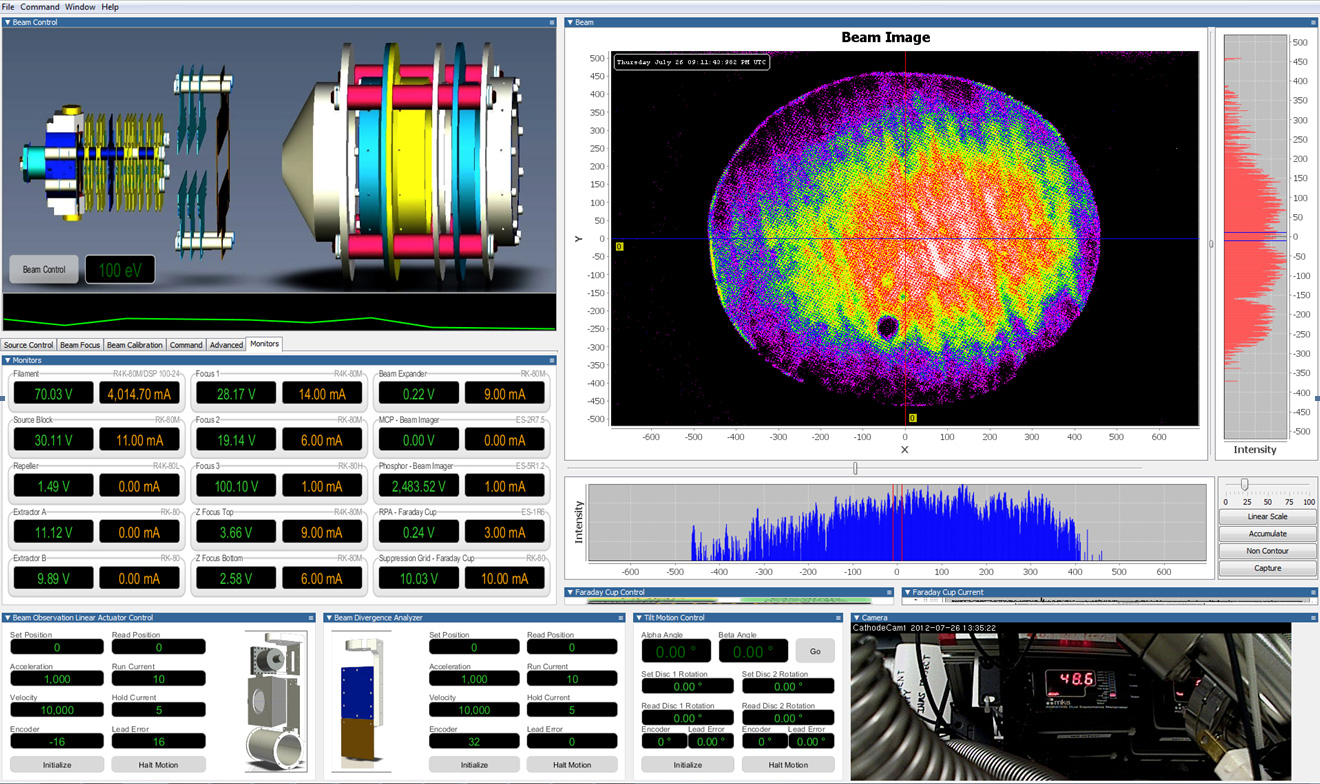 Materials prohibited in both ion gun and main chamber: nylon, silicone, PVC, low molecular weight hydrocarbons, zinc, cadmium, brass, particulate contaminated or producing items/mechanisms (blacklight inspection prior to chamber entry preferred).